ECF4CLIM
ECF4CLIM - A EUROPEAN COMPETENCE FRAMEWORK FOR A LOW CARBON ECONOMY AND SUSTAINABILITY THROUGH EDUCATION (Horizon 2020, 2021-25)
Through a multidisciplinary, transdisciplinary and participatory process, ECF4CLIM develops, tests and validates a European Competence Framework (ECF) for transformational change, which will empower the educational community to take action against climate change and towards sustainable development.
The project strengthens knowledge, skills, attitudes, practices and social norms in the areas of the climate change and sustainable development by:
1. Identifying challenges & opportunities: co-designing the ECF,
2.Testing the ECF: at demonstration sites (individual and collective competences),
3. Engaging: the broader educational community in evaluating the ECF,
4. Empowering: the broader educational community to triggers and sustain transformational changes
STRATEGY CCUS
STRATEGIC PLANNING OF REGIONS AND TERRITORIES IN EUROPE FOR LOW-CARBON ENERGY AND INDUSTRY THROUGH CCUS (2019-2022) - H2020 Project.
The STRATEGY CCUS project aims to elaborate strategic plans for CCUS development in Southern and Eastern Europe at short term (up to 3 years), medium term (3-10 years) and long term (more than 10 years). Specific objectives are to develop:
Local CCUS development plans, with local business models, within promising start‐up regions;
Connection plans with transport corridors between local CCUS clusters, and with the North Sea infrastructure, in order to improve performance and reduce costs, thus contributing to build a Europe-wide CCUS infrastructure.
FOTOVOL3R
FOTOVOL3R: Circularity of photovoltaic systems by recycling, repairing and reusing photovoltaic modules (2021-2024), funded by the Spanish Ministry of Science and Innovation.
This project aims to contribute to the sustainability of photovoltaic (PV) systems from the operation of PV modules in plants until the end of their life. Making a product more sustainable involves not only finding ways to manage and valorize its waste, but also to increase product acceptance, to reduce the amount of waste generated, to avoid the generation of more waste, and to give a second life to the product. For PV modules, this would involve 1) the detection of defective modules in plants, 2) the analysis of them in order to check if they have reached the end of their life or it is possible to carry out repairs that return them to the market, 3) the treatment of the waste of the modules that have actually reached the end of their life, and 4) the verification of the reliability of the repaired modules.
MATEMAD
MateMad: CARACTERIZACIÓN MULTIDIMENSIONAL DE MATERIALES URBANOS: IMPACTO SOBRE EL AMBIENTE EXTERIOR, LA DEMANDA ENERGÉTICA Y EL BIENESTAR DE LOS CIUDADANOS (2021-2024), funded by the Spanish Ministry of Science and Innovation (Proyecto de investigación PID2020-114873RB-C31).
The project has two general objectives:
- Generate knowledge about the impact of surface urban materials on the habitability and sustainability of cities.
- Generate a reliable proposal, adapted to the vulnerable areas of the city of Madrid, for the substitution of materials on urban surfaces that improves the quality of the external environment, energy demand and the well-being of citizens.
MOD4SMART
ELHYPORT
ELHYPORT: Hydrogen fuel cells with advanced membrane-electrode assemblies for their integration in low power and portable applications (2020-2024), funded by the Spanish Ministry of Science and Innovation.
BIOBOR
BIOBOR: Bornizo para la Bioeconomía - Herramientas de gestión forestal y evaluación ambiental para su valorización - (2018-2021) (Código de Proyecto: RTI 2018 - 094413-R-C21), funded by Ministero de Ciencia, Innovación y Universidades a través del Programa Estatal de Investigación, Desarrollo e Innovación Orientada a los Retos de la Sociedad, en el marco del Plan Estatal de Investigación Científica y Técnica y de Innovación 2017-2020 en la convocatoria de 2018.
El objetivo principal del proyecto es promover la producción de corcho en alcornocales jóvenes para prevenir el abandono de los alcornocales procedentes de las forestaciones de la PAC, desarrollando, para ello, herramientas que faciliten su puesta en producción y teniendo en cuenta los impactos ambientales durante todo el proceso. Este objetivo principal se llevará a cabo mediante un enfoque multidisciplinar que se abordará desde tres puntos de vista: la gestión forestal, la caracterización tecnológica del bornizo y la evaluación ambiental.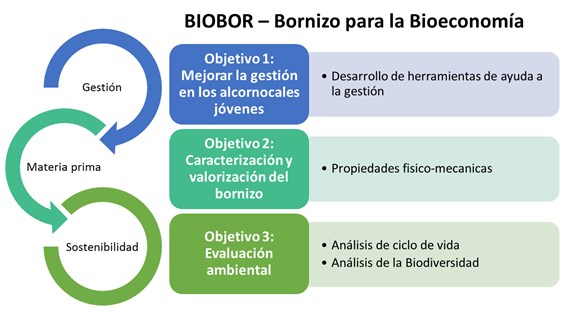 HIBRI2
Sistema integrado de control para el abastecimiento de energía mediante sistemas híbridos en comunidades aisladas de Cuba. Fase II. (2019-2021) -2018/ACDE/000600-, funded by AECID (Agencia Española de Cooperación Internacional para el Desarrollo).
The main objective is to assess the application of an innovative solution of a renewable hybrid system for rural electrification in Cuba.
RETOPROSOST-2-CM
Producción sostenible y simbiosis industrial en la Comunidad de Madrid (RETO-PROSOST-2-CM, P2018/EMT4459 (2019-2022), funded by Community of Madrid.
RETOPROSOST-2-CM intends to contribute in a significant and visible way to promote a sustainable production and an industrial symbiosis relations between companies in the productive sector in the Community of Madrid. This initiative aims to become a benchmark project at national level that will serve to increase the social visibility of circular economy initiatives. The ultimate objective of the proposed programme is to change the paradigm of goods and energy production from the predominant model of linear flow of materials and energy to another involving a circular economy approach through the implementation of industrial symbioses that promote the interconnection of materials supplies between companies, so that the effluents and residues generated by some entity become secondary raw materials for others.
The most relevant results to be achieved are: 1) Transformation of waste from the food industry into bioplastics through chemical and biotechnological routes for packaging and textile uses; 2) production of nanocellulose derivatives for the formulation of new composites and use as flocculants in water treatment; 3) production of prebiotic amendments and sustainable biofertilizers for crops; 4) production of enzymatic biodispersants for industrial use; 5) production of biofuels; 6) optimization of water systems and energy generation of companies; 7) Improvement of the image of the Community of Madrid as a focus of innovation in Spain and as a sustainable region and 8) Attraction and retention of talented researchers.
ALGATEC
ALGATEC-CM : Desarrollo de tecnología avanzadas de microalgas para una economía circular (2019-2022), funded by Community of Madrid (Spain) [Ayudas para la realización de Programas de Actividades de I+D entre Grupos de Investigación de la Comunidad de Madrid en Tecnologías, cofinanciado con el Fondo Social Europeo y Fondo Europeo de Desarrollo Regional (Ref: S2018/BAA-4532)].
El programa ALGATEC constituye una oportunidad tecnológica única y pionera en la CAM para el desarrollo del concepto de biorrefinería de microalgas dentro de los postulados de la economía circular. El debate causado por el uso de cultivos agroalimentarios para obtención de energía ha dirigido la búsqueda hacia nuevas alternativas sostenibles que eviten los efectos no deseados de esa competencia alimento energía. Como resultado, se han propuesto los biocombustibles de tercera generación, entre los que las microalgas se encuentran en un lugar destacado, ya que presentan rendimientos por hectárea muy elevados, son renovables, sostenibles, no contaminantes y contribuyen a reducir las emisiones de gases de efecto invernadero. Sin embargo, las microalgas presentan barreras técnicas y económicas que no permiten su completo desarrollo industrial. La viabilidad económica de las microalgas pasa por acoplar la producción de biocombustibles con la obtención de productos de alto valor añadido. Por otra parte, desde el punto de vista científico y técnico, es preciso desarrollar conocimiento y herramientas de mejora de especies susceptibles de uso industrial, así como desarrollar y optimizar nuevos procesos tanto para extraer productos de alto valor como para valorizar la biomasa residual para la obtención de biocombustibles.
En ALGATEC, se propone la valorización energética mediante el desarrollo de procesos tales como la licuefacción hidrotérmica, para la obtención de un bioaceite con propiedades similares al gasóleo y la biometanización para la obtención de biogás. El análisis de sistemas aplicado a todo el proceso permitirá determinar la viabilidad, a escala industrial, de los procesos desarrollados considerando todo tipo de parámetros socioeconómicos y ambientales aplicando las metodologías del análisis del ciclo de vida.
RENUWAL
RENUWAL: Red Iberoamericana para el tratamiento de efluentes con microalgas (2020-2022) - Funded by CYTED (Programa Iberoamericano de Ciencia y Tecnología para el Desarrollo).
SES 2019
SES: Socioeconomic Studies in EUROFUSION Programme.
Achieving nuclear fusion commercialization is a scientific and technological challenge that requires a never seen endeavour of the Scientific Community. But many other factors may affect fusion success. That's why the EUROFUSION Programme includes Socio Economic Studies (SES) on fusion. Since 2001, SES brings together the expertise of researchers in physical sciences, engineering and economic, social and environmental sciences to evaluate the economic and social aspects of the integration of fusion power into future energy systems.
RETOS-AIRE
RETOS-AIRE: AIR POLLUTION MITIGATION ACTIONS FOR ENVIRONMENTAL POLICY SUPPORT. AIR QUALITY MULTISCALE MODELLING AND EVALUATION OF HEALTH AND VEGETATION IMPACTS (2019-2021)- Funded by the Spanish Ministry of Science and Innovation (RETOS 2018).
URBANOME
URBANOME: Urban Observatory for Multi-participatory Enhancement of Health and Wellbeing (2021-2025) - Funded by EC (H2020 - Grant agreement ID: 945391). (https://cordis.europa.eu/project/id/945391)
URBANOME aims at building a common EU Framework for evaluating comprehensively multi-sector policies in urban settings supporting the "Health in all Policies" approach of WHO. In this light the overall objective of URBANOME is to promote urban health, wellbeing and liveability, through systematically integrating health concerns in urban policies and the activities of urban citizens, on the basis of detailed and comprehensive evidence on environmental health determinants, the spatial distribution of these in the city, and the social distribution of their impact among different population groups, accounting for different life styles and behaviours. Integration of health concerns, environmental stressors and social equality in public and private activities help alleviate a wide range of contemporary urban challenges, specifically social cohesion and health inequality, and promote the transition of European cities to sustainable, climate proof, smart and inclusive urban economies.
URBANOME brings together the complete set of environmental, social, and functional features of a city in an integrative analytical framework that would facilitate the identification of the main determinants of urban health and wellbeing and support co-creation and testing of policies and precision interventions designed to improve urban health and wellbeing through Urban Living Labs.
The URBANOME approach will be applied through pilots built by the Urban Living Labs in Aarhus, Athens, Aberdeen, Madrid, Milan, Ljubljana, Stuttgart, Paris and Thessaloniki tackling various levels of environmental exposures, age-dependent susceptibility windows, inter-individual variability, gender differentiation of exposure, and socio-economic disparities. These will allow us to draw conclusions regarding the determinants of urban health and wellbeing that will be translated into evidence–based policy recommendations considering socio-economic and environmental factors leading to urban health inequalities.
URBANOME is part of the European Cluster on Urban Health which includes other research projects funded in the frame of the same call.