Ongoing projects
MUSTEC
MARKET UPTAKE OF SOLAR THERMAL ELECTRICITY THROUGH COOPERATION (2017-2020) - H2020 Project.
MUSTEC aims to explore and propose concrete solutions to overcome the various factors that hinder the deployment of concentrated solar power (CSP) projects in Southern Europe capable of supplying renewable electricity on demand to Central and Northern European countries. To do so, the project will analyze the drivers and barriers to CSP deployment and renewable energy (RE) cooperation in Europe, identify future CSP cooperation opportunities and will propose a set of concrete measures to unlock the existing potential. To achieve these objectives, MUSTEC will build on the experience and knowledge generated around the cooperation mechanisms and CSP industry developments building on concrete CSP case studies. Thereby we will consider the present and future European energy market design and policies as well as the value of CSP at electricity markets and related economic and environmental benefits. In this respect, MUSTEC combines a dedicated, comprehensive and multi-disciplinary analysis of past, present and future CSP cooperation opportunities with a constant engagement and consultation with policy makers and market participants. This will be achieved through an intense and continuous stakeholder dialogue and by establishing a tailor-made knowledge sharing Network. The MUSTEC consortium consists of nine renowned institutions from six European countries and includes many of the most prolific researchers in the European energy policy community, with very long track records of research in European and nationally funded energy policy research projects.
MUSTEC project is H2020 project, coordinated by CIEMAT, officially started the 1st of October of 2017.
STRATEGY CCUS
STRATEGIC PLANNING OF REGIONS AND TERRITORIES IN EUROPE FOR LOW-CARBON ENERGY AND INDUSTRY THROUGH CCUS (2019-2022) - H2020 Project.
The STRATEGY CCUS project aims to elaborate strategic plans for CCUS development in Southern and Eastern Europe at short term (up to 3 years), medium term (3-10 years) and long term (more than 10 years). Specific objectives are to develop:
Local CCUS development plans, with local business models, within promising start‐up regions;
Connection plans with transport corridors between local CCUS clusters, and with the North Sea infrastructure, in order to improve performance and reduce costs, thus contributing to build a Europe-wide CCUS infrastructure.
ELHYPORT
ELHYPORT: Hydrogen fuel cells with advanced membrane-electrode assemblies for their integration in low power and portable applications (2020-2024), funded by the Spanish Ministry of Science and Innovation.
BIOBOR
BIOBOR: Bornizo para la Bioeconomía - Herramientas de gestión forestal y evaluación ambiental para su valorización - (2018-2021) (Código de Proyecto: RTI 2018 - 094413-R-C21), funded by Ministero de Ciencia, Innovación y Universidades a través del Programa Estatal de Investigación, Desarrollo e Innovación Orientada a los Retos de la Sociedad, en el marco del Plan Estatal de Investigación Científica y Técnica y de Innovación 2017-2020 en la convocatoria de 2018.
El objetivo principal del proyecto es promover la producción de corcho en alcornocales jóvenes para prevenir el abandono de los alcornocales procedentes de las forestaciones de la PAC, desarrollando, para ello, herramientas que faciliten su puesta en producción y teniendo en cuenta los impactos ambientales durante todo el proceso. Este objetivo principal se llevará a cabo mediante un enfoque multidisciplinar que se abordará desde tres puntos de vista: la gestión forestal, la caracterización tecnológica del bornizo y la evaluación ambiental.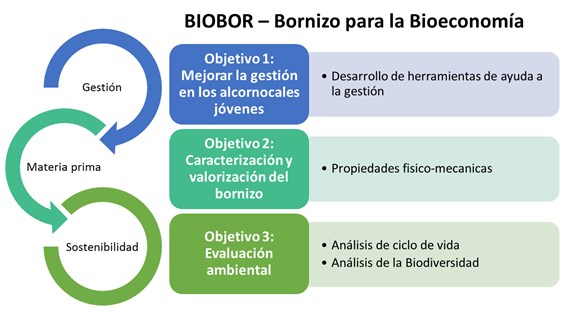 HIBRI2
Sistema integrado de control para el abastecimiento de energía mediante sistemas híbridos en comunidades aisladas de Cuba. Fase II. (2019-2021) -2018/ACDE/000600-, funded by AECID (Agencia Española de Cooperación Internacional para el Desarrollo).
The main objective is to assess the application of an innovative solution of a renewable hybrid system for rural electrification in Cuba.
RETOPROSOST-2-CM
Producción sostenible y simbiosis industrial en la Comunidad de Madrid (RETO-PROSOST-2-CM, P2018/EMT4459 (2019-2022), funded by Community of Madrid.
RETOPROSOST-2-CM intends to contribute in a significant and visible way to promote a sustainable production and an industrial symbiosis relations between companies in the productive sector in the Community of Madrid. This initiative aims to become a benchmark project at national level that will serve to increase the social visibility of circular economy initiatives. The ultimate objective of the proposed programme is to change the paradigm of goods and energy production from the predominant model of linear flow of materials and energy to another involving a circular economy approach through the implementation of industrial symbioses that promote the interconnection of materials supplies between companies, so that the effluents and residues generated by some entity become secondary raw materials for others.
The most relevant results to be achieved are: 1) Transformation of waste from the food industry into bioplastics through chemical and biotechnological routes for packaging and textile uses; 2) production of nanocellulose derivatives for the formulation of new composites and use as flocculants in water treatment; 3) production of prebiotic amendments and sustainable biofertilizers for crops; 4) production of enzymatic biodispersants for industrial use; 5) production of biofuels; 6) optimization of water systems and energy generation of companies; 7) Improvement of the image of the Community of Madrid as a focus of innovation in Spain and as a sustainable region and 8) Attraction and retention of talented researchers.
ALGATEC
ALGATEC-CM : Desarrollo de tecnología avanzadas de microalgas para una economía circular (2019-2022), funded by Community of Madrid (Spain) [Ayudas para la realización de Programas de Actividades de I+D entre Grupos de Investigación de la Comunidad de Madrid en Tecnologías, cofinanciado con Fondos Estructurales]
EoL - PV
SOSTENIBILIDAD DEL FIN DE VIDA DE PANELES FOTOVOLTAICOS Y SUS ÍNDICES DE CIRCULARIDAD (Sustainability of End-of-Life of PV panels and their circularity indexes) (2019-2020), funded by Fundación Iberdrola (Spain).
The main objective is to analyze, from a sustainability approach, different strategies for the management of photovoltaic panels at the end of the useful life. This analysis will be detailed considering the three pillars of sustainability and will be carried out through the application of quantitative methods that will allow developing strategies to move towards a circular economy.